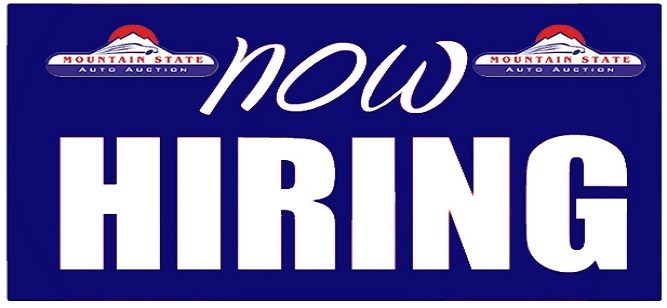 Mountain State Auto Auction is always looking for quality individuals to assist us in providing excellent service to our customers.
For information on any of these positions, please contact Chad Garrison or call 304.592.5300.
We are currently hiring in the following capacities:
OVER THE ROAD DRIVERS
We're hiring both standard endorsement drivers as well as class A, B, and D licensed transporters. We require a clean driving record and the ability to pass substance testing. We are an equal opportunity employer.
CDL DRIVERS - Class A, B, and D
Put yourself behind the wheel and be home soon when you join the driving team at MSAA!!!
Mountain State is looking for safety-oriented, detail-oriented Class A or B drivers with a passion for driving to transport cars to/from the auction facilities. We work hard to get you home with no more than three nights/week away from home.
Your responsibilities include transporting cars via a tractor/trailer truck to one or multiple locations.
Duties:
* Pick up vehicles from one or multiple locations in a specified geographic area in accordance with Transportation Manager's instructions;
* Before and after loading the vehicle, inspect vehicle and record the condition of the vehicle;
* Safely and responsibly load vehicle(s);
* Delivers vehicle(s) to one or multiple destinations, product or material to a destination, by identifying the destination; selecting a route; driving the vehicle;
* Ensures operation of equipment by completing preventive maintenance reporting; calling for repairs; maintaining equipment supplies;
* Maintains safe vehicle and conditions and protects load by complying with organization policies and procedures and highway rules and regulations;
* Contributes to team effort by accomplishing related results as needed.
APPLY IN PERSON, AND BRING A COPY OF YOUR MVR
Skills/Qualifications:
Deadline-Oriented, Dependability, Customer Focus, Safety Management, Reporting Skills.
FREE ON MONDAY MORNINGS?... Make extra money and see great cars!
Block Clerks
Mountain State Auto Auction, located in Shinnston, WV, has an immediate need for Block Clerks for our Monday Sales. Our lanes kick off at 10:30 am and finish at 2 PM. Great typing skills and ability to multitask in a VERY fast-paced environment is a must. If you love cars and want to have a fun experience please email megan@mtstateaa.com or call 304-592-5300 ext.459 Tuesday through Friday 9 am to 5 pm.
-------- Auctions run from 10:00 am until approximately 2:00 pm EVERY Monday --------